Details

The R.M.Williams Digital Gift Card is the perfect gift for those who are hard to buy for. Choose a custom value from CAD$20 - CAD$1500.

Purchase for instant delivery or schedule for a special date
Add your own personalised message
Redeem at rmwilliams.com/ca
Purchase multiple gift cards

Already have a Digital Gift Card?
To redeem: Select Gift Card at checkout and enter code
To check balance: Enter your card details below or during the checkout process


FAQ

Where can I shop with an R.M.Williams Gift Card?

You can shop with your Gift Card online at rmwilliams.com/ca

How do I redeem my Gift Card?

Online: Enter the 'digital voucher code' in the Payment section in the checkout. Your code can be found above the barcode, in the digital gift card email sent to your recipient.

Can I use a Physical Gift Card purchased in Australia in all countries?

No. Please make sure you select the correct website for the country your recipient lives in.

Physical Gift Cards are only available for purchase online and redemption in Australia.

T & C

Digital Gift Cards can be purchased online and redeemed at r.m.williams.com/ca .
Digital Gift Cards can only be redeemed in the market where they were purchased e.g. If purchased in Canada in CAD, it can only be redeemed in Canada.
Digital Gift Cards purchased in Canada will expire 36 months from purchase.
Digital Gift Cards can be redeemed online by entering the 'digital voucher code' in the Payment section in the checkout, or in store by presenting the digital gift card email (on screen or print out).
This Digital Gift Card is also partially redeemable and it is up to the cardholder to use the full value within the validity period.
Digital Gift Cards are not redeemable for cash.
If the full balance is not spent in one transaction, the remaining balance will remain on the digital gift card.
Any unused balance will not be refunded or credited when the card expires.
Treat your Digital Gift Card email as cash. Misplaced or misused Digital Gift Cards will not be replaced or refunded.
Check your card balance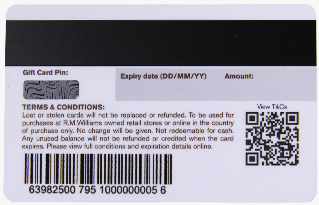 Finding out the balance of your gift card couldn't be easier. Locate the code and PIN number on the back of your gift card and enter them here to check the available balance.