The heart of Australia at your fingertips
R.M.Williams OUTBACK magazine celebrates the people and places of remote Australia. Through stunning photography and gripping writing, it tells the stories of life beyond our horizons.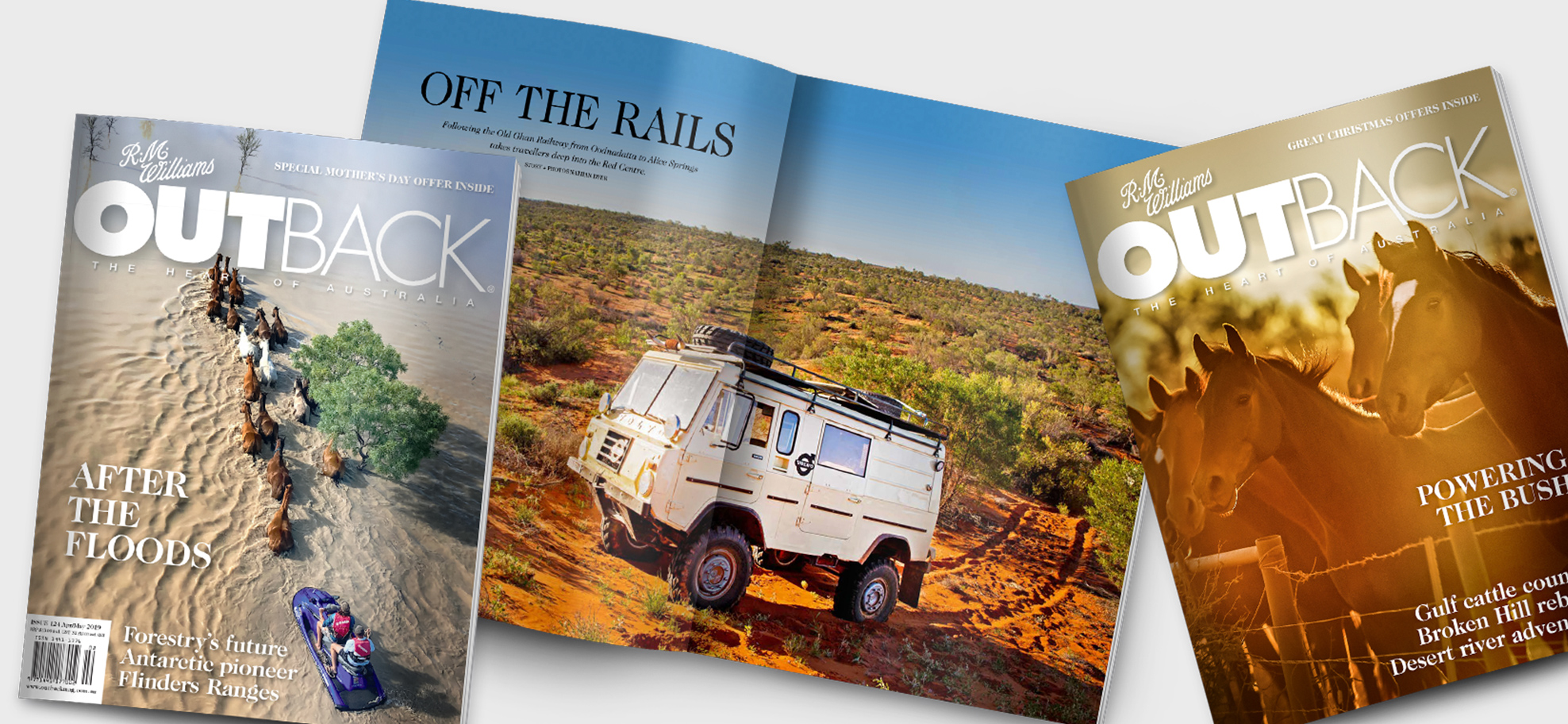 ---
EXPLORE OUR STORIES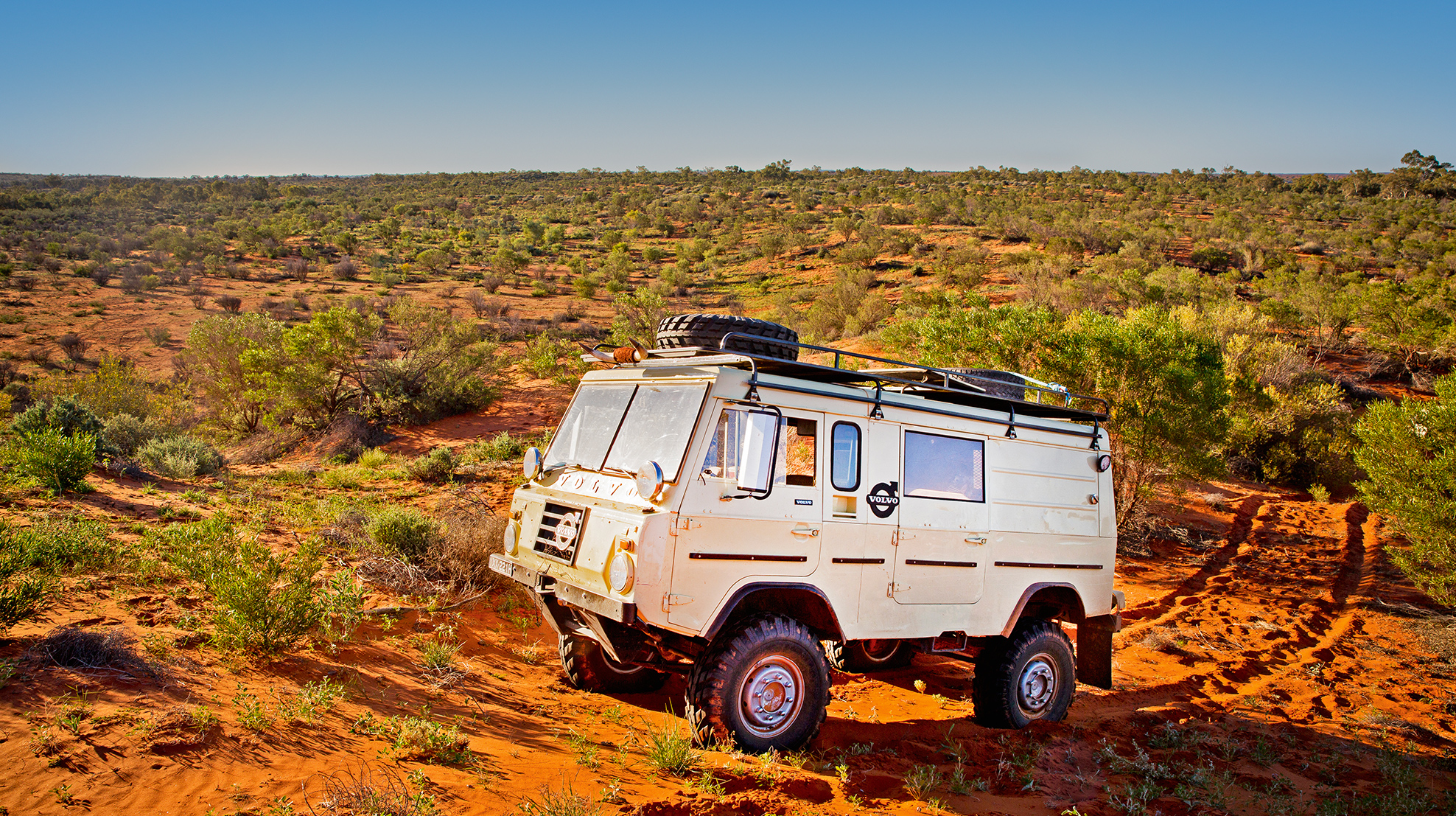 OFF THE RAILS
A GREY SKY HANGS LOW OVER Oodnadatta's Pink Roadhouse and the front doors swing incessantly as travellers come and go. A position vacant sign painted permanently on the pink façade hints to the town's transient nature: "Tradesmen almost always wanted. Apply within. Accomm supplied."
Inside, a gaggle of travellers makes plans over hamburgers and meat pies. The more adventurous will continue in the shadow of the Old Ghan Railway, a rugged journey across 530 kilometres of unsealed track snaking northwest to The Alice via the remote Aboriginal community of Apatula (Finke).
For those taking the road less travelled, an official-looking sign outside warns of the dangers ahead: allow for six litres of water per person per day and take 3-4 days' reserve; medical assistance can be days away; and plan for double normal fuel consumption.
Among them is Greg Neck, busy flipping eggs over a black hotplate and copping a ribbing from his camping companions. The Neck entourage is travelling in two khaki-coloured ex-Swedish military Volvo trucks on a five-day journey from Adelaide to Alice Springs. "They're pretty old and unique vehicles, and not very dust proof," Greg says. "But they're good fun."
Although today barely more than a strung-out collection of ruined sidings and scattered dog spikes, the Old Ghan once carried the hopes of a new nation. Named after the Afghan cameleers who helped open the interior, the railway from Port Augusta first reached Oodnadatta in 1891, then an isolated outpost for cameleers and railway workers. It took another 38 years for the line to reach Alice Springs.
Leaning on his motorcycle, Tim Parsons looks like a man without a care in the world. En-route from the Flinders Ranges to Alice, the Sydney pilot is a long way from home, and loving it. "You forget just how big the country is out here."
STORY + PHOTOS NATHAN DYER
---
ACROSS CULTURES
The Kimberley is a massive wilderness region of 40,000 square kilometres in Australia's northwest, remarkable for its spectacular gorges, pristine coastline and rugged outback character. Many of its highlights can't be reached without a four-wheel-drive vehicle or a boat. But hidden in plain sight across the accessible heart of the region is a cultural journey unlike anything else in the country. The Art Gallery of Western Australia has strung a dozen Indigenous art centres onto a map to create the Kimberley Aboriginal Art Trail. According to project coordinator Philippa Jahn, many travellers are looking for a cultural experience. "But unless you're an art aficionado, not many people know where to start," she says.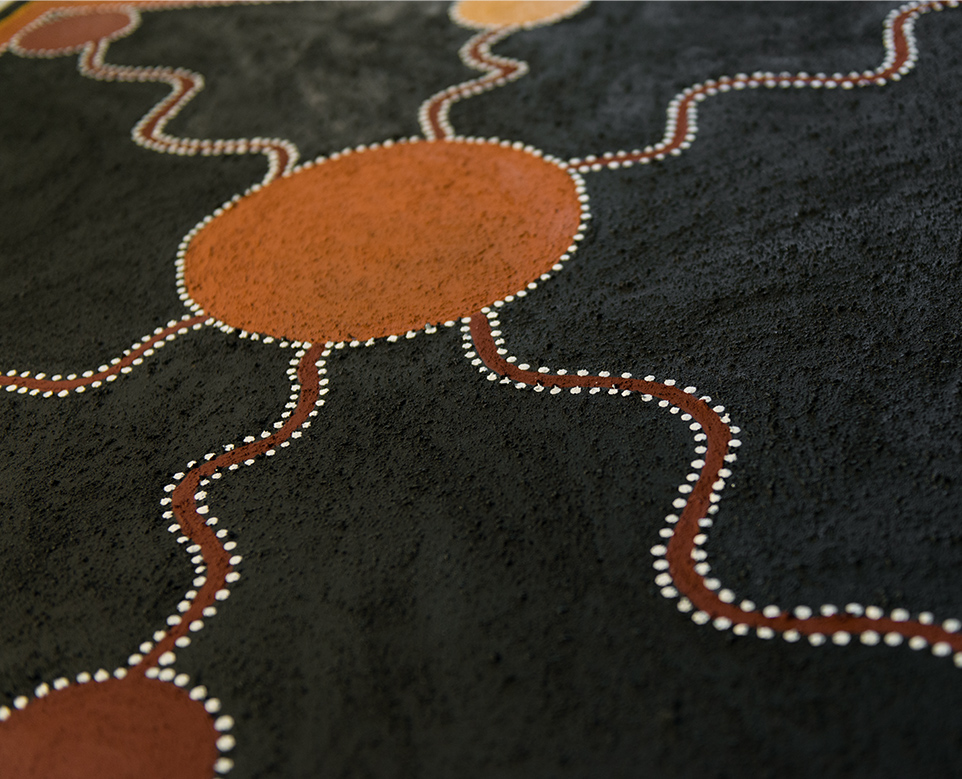 Travelling mostly on sealed roads, and allowing a leisurely half-day per visit, a week-long itinerary from Broome in the west to Warmun, near the Northern Territory border in the east – with a rugged detour down the Tanami Track to take in the famous Warlayirti artists of Balgo – covers half of the Kimberley's art centres and leaves enough time to balance culture with some of the region's scenic highlights, such as Geikie Gorge, the Bungle Bungle Ranges and Wolfe Creek Crater. It's a cruisy 1500-kilometre trek, with little traffic, the odd roadside boab and the occasional sign to indicate a turn-off to one of the Kimberley's vast cattle properties or isolated Aboriginal communities.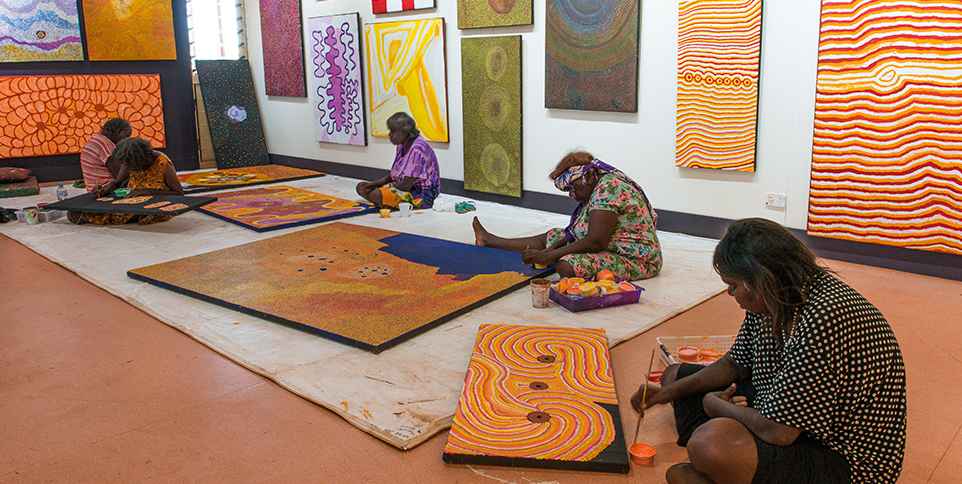 During the weeklong journey, there are plenty of opportunities to glean insights into Indigenous commitment to country, spirituality and creativity. Whether the art is traditional or contemporary, whether it's a national treasure or an obscure regional practice, it's an amazing experience. "Art centres serve as a point of engagement for Indigenous and non-Indigenous people to meet and understand each other better," says Tim Pearn, interim manager of Halls Creek's Yarliyil Art Centre. "There's a really nice intersect between two world views here."
STORY THERESE HALL | PHOTOS PETER PAP
---
A FAMILY AFFAIR
About three times a year Neil Booth ventures into the wild Macleay River valley to round up his cattle. He owns a small property at Georges Junction, on the eastern escarpment of the New England Plateau, NSW, but also leases 2800 hectares along the Macleay River. It is here where most of his 400 breeding cows and some of his bulls roam free.
When possible, the dedicated family man turns the muster into a family affair. Then three generations – the old man himself, his four kids Sarah, Emma, Ben and Tim, their partners and a bunch of horse savvy grandchildren – set out from his family home. "The kids are pretty damn good," he says proudly. "I've been teaching them how to track stock. It's proper bush around here." On horseback, accompanied by utes, a battered truck and a large mob of cattle dogs, the family faces a gruelling task: to find his stock, strewn over a large area of steep rocky hills, lush rainforest gullies and hidden plateaus. "I rely on the dogs big time. And good horses," he says.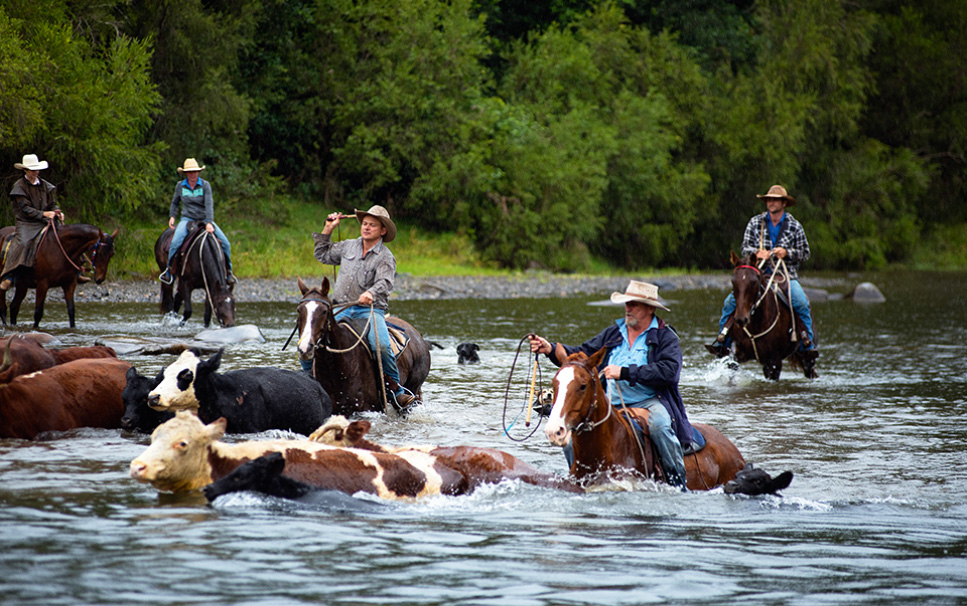 Neil started mustering with his father at the age of 5 and is an expert in finding the cattle. In summer, high temperatures, lack of water in the hills and buffalo flies keep the animals near the river. "In winter time you don't see them. They are up in the hills," he says.
The muster ends up at his yards. After separating weaners from heifers – the older calves go to the saleyards – spraying against buffalo fly, dehorning, branding and tagging, the herd is released again into the Macleay River valley. Until the next muster.
STORY + PHOTOS DON FUCHS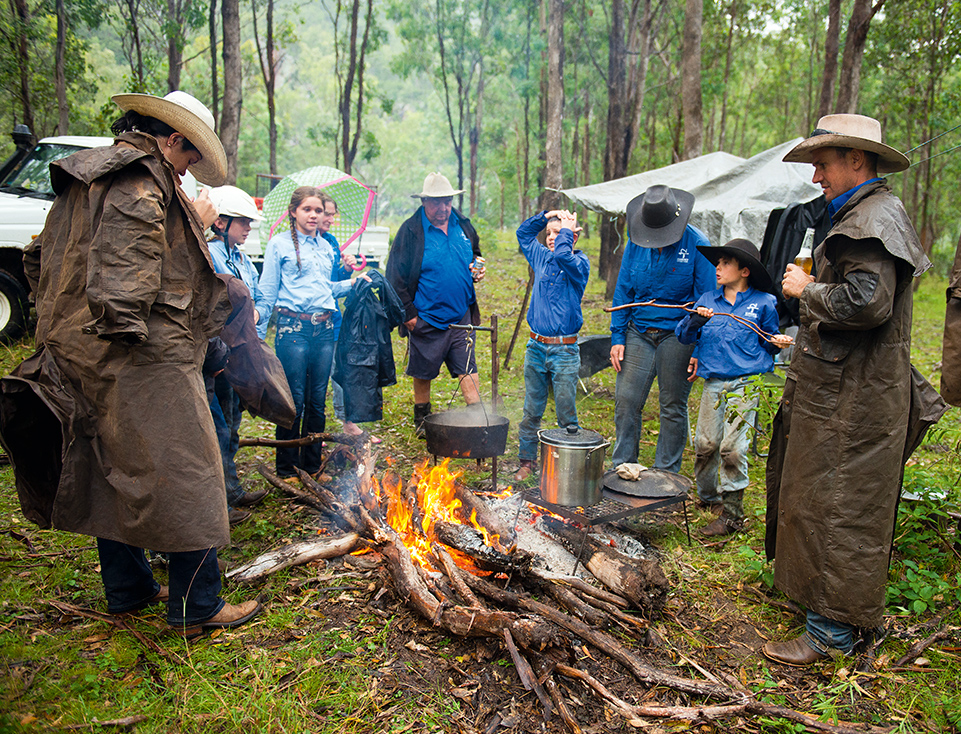 ---