CELEBRATING 90 YEARS
R.M.Williams - born in the australian outback - 1932
Whilst camping in the South Australian bush in 1932, a young Reginald Murray 'RM' Williams created an elastic-sided leather boot to hold up against the rough terrain and the long outback rides. Little did he know, this sturdy boot would mark the start of his lifelong mission; from humble beginnings, R.M.Williams was born. In the decades that followed, RM continued to handcraft products for hardworking stockmen and soon had a thriving mail order business, before the increasing popularity of his products demanded the establishment of a full factory at Percy Street in 1934. Many craftsmen and women joined him and later settled into a new workshop at Frost Road in the 1970s, where production continues today.
Nine decades later, RM's handmade leather boots have become synonymous with authentic outback dressing and timeless Australian style.
As of today, hundreds of highly skilled artisans continue to handcraft leather boots, apparel and accessories for R.M.Williams, using the same techniques as those who went before them. It's this enduring camaraderie that led RM to say 'it's the people who make a company.'
"THE POINT IS, IT'S GOT TO LAST A LONG TIME. THAT'S WHAT THE STOCKMEN PAY FOR. WE GIVE THEM A GOOD PRODUCT"
Reginald Murray ('RM') Williams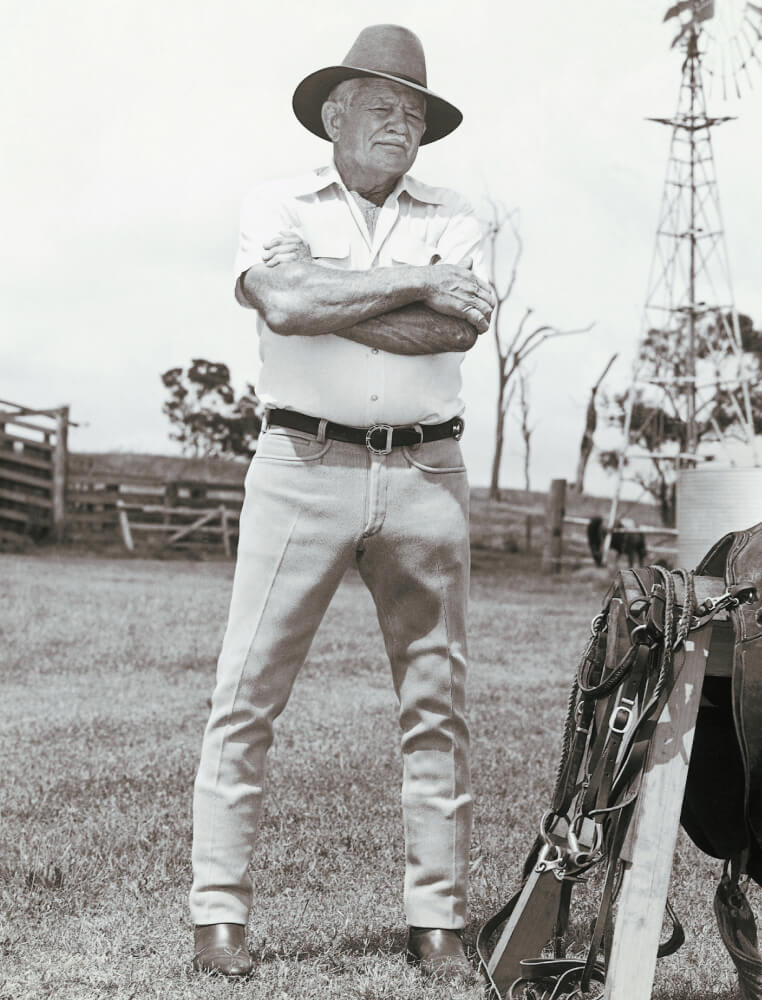 REGINALD MURRAY WILLIAMS
THE MAN
Reginald Murray Williams was a man with endless tenacity, grit and a lifelong, pioneering spirit. His humble early years and many challenging journeys through the Australian bush informed his attitude to life, as well as inspiring his pursuit of products that would stand the test of time.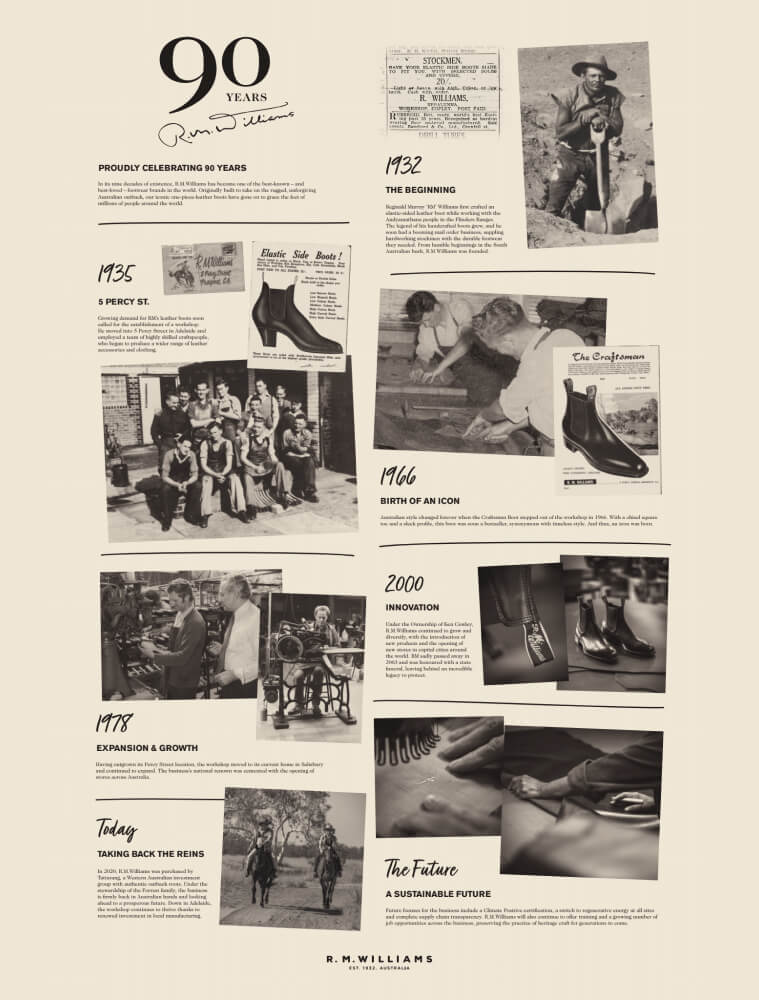 AN EVER-GROWING LEGACY
OUR STORY
In its nine decades of existence, R.M.Williams has become one of the best-known - and best-loved - footwear brands in the world. Originally built for the men and women of the rugged, unforgiving Australian outback, our iconic one-piece-leather boots have gone on to grace the feet of millions of people around the world, from stockmen to city slickers, and even a few famous faces.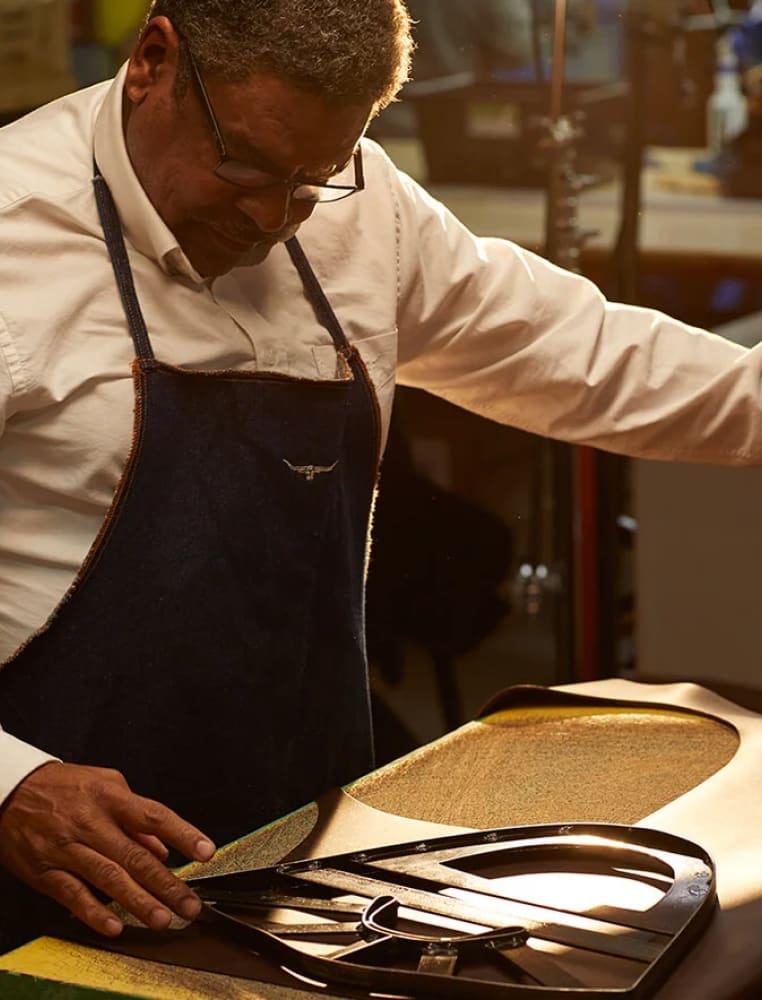 Handcrafted In Australia
A COMMITMENT TO QUALITY
R.M.Williams has proudly handcrafted high quality leather boots, functional apparel and timeless accessories in Australia since 1932. Behind each artisanal piece are the hands of our master crafters, who continue to preserve RM's legacy, traditions and passion for Australian-made leather crafting. More than a purchase, our handmade products are an investment; in quality, thoughtful design and the spirit of home-grown manufacturing. We take tremendous pride in knowing that we are creating something special just for you, to accompany you on all of life's great journeys.
GREAT AUSSIE COIN HUNT
FOR THE COLLECTORS
This year, R.M.Williams joins the Great Aussie Coin Hunt, featured in a line-up of beloved Australian icons. Discover the limited-edition A to Z collection and get to know our special R.M.Williams dollar coin.
STEP BACK IN TIME WITH US
EXPLORE THE ARCHIVES
Explore our iconic R.M.Williams catalogues, from the very beginning. The desire to craft and supply products that a customer truly needs - coupled with incomparable quality - is apparent in every issue. Through many challenges including a World War, leather shortages, global exposure and changing attitudes, the R.M.Williams product range has stayed true to a core focus of handcrafted boots and leather goods for honest Australian living.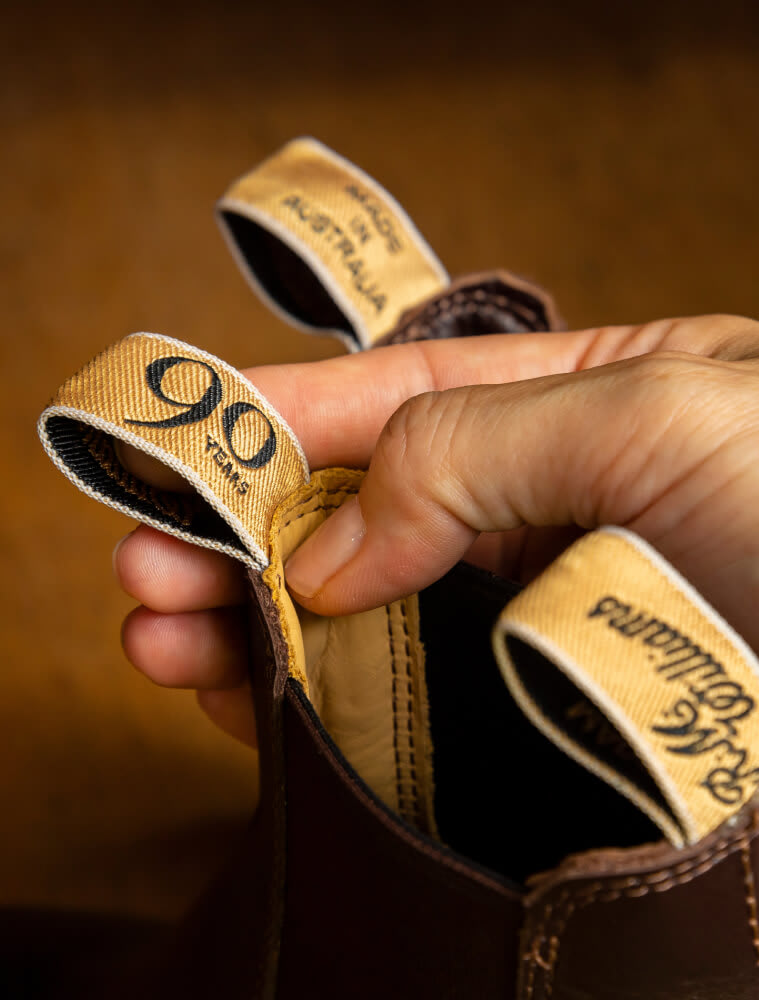 Win a pair of limited-edition 90th anniversary boots
IN PARTNERSHIP WITH THREAD TOGETHER
Join us as we celebrate 90 years of R.M.Williams. To mark our anniversary, we're asking you to show us how you wear your favourite R.M.Williams boots. Simply take a photo of yourself and share it with us to be in with a chance of winning one of 90 pairs of limited-edition Craftsman or Lady Yearling 90th anniversary boots. For every unique entry, we will donate $5 to Thread Together, to help Australians in need get back on their feet. Each time you share an outfit with us, you'll be providing a brand new wardrobe of 26 clothing items for someone who needs it most.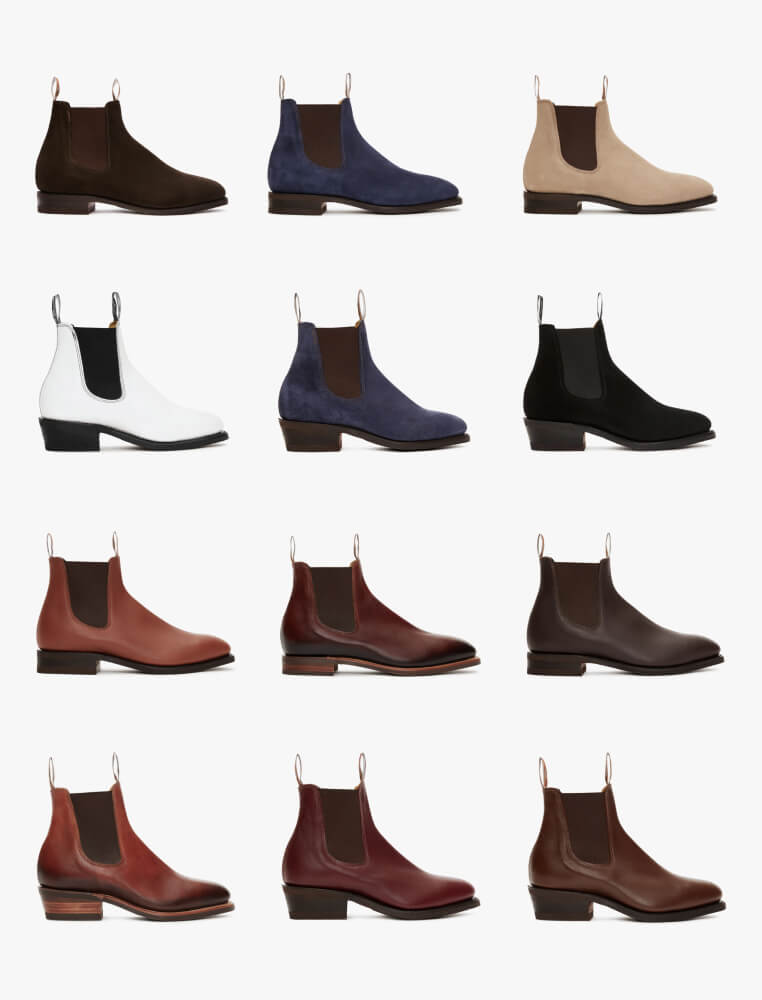 MADE TO ORDER
A UNIQUE EXPERIENCE, HANDCRAFTED FOR YOU
R.M.Williams started his business with 'Mail-to-order' boots, requiring prospective customers to send in their boot measurements, preferred style and leather, with the resulting boots handcrafted for them on demand. We still offer this bespoke service today, made possible by the generations of skilled craftsmen and women continuing RM's legacy in our Adelaide workshop. With millions of possible variations available through our Made-To-Order service, you can create something uniquely you, or take inspiration from our curation of fan favourites.