Looking after your boots
Every leather upper in every boot was originally a living, breathing skin and as a result, needs to be maintained like one. Treat it well, condition it and give it the occassional polish and it will not only last longer, but will survive whatever you throw at it.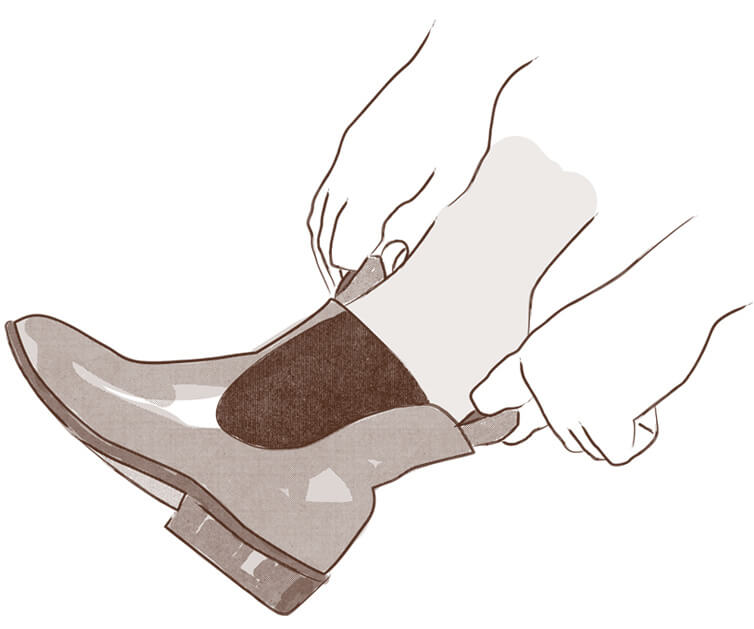 WEARING
Allow the two 'tugs' to take the strain when pulling on your elastic sided boots; this will keep the back strong and spread the strain over the 'tugs' and the elastic.
Wear your boots, if possible, in dry conditions on the first few occasions. Fine leather boots can require a full day to dry out from natural perspiration.
It's recommended to alternate wearing your pairs of boots every few days if possible, to let them dry out from natural perspiration.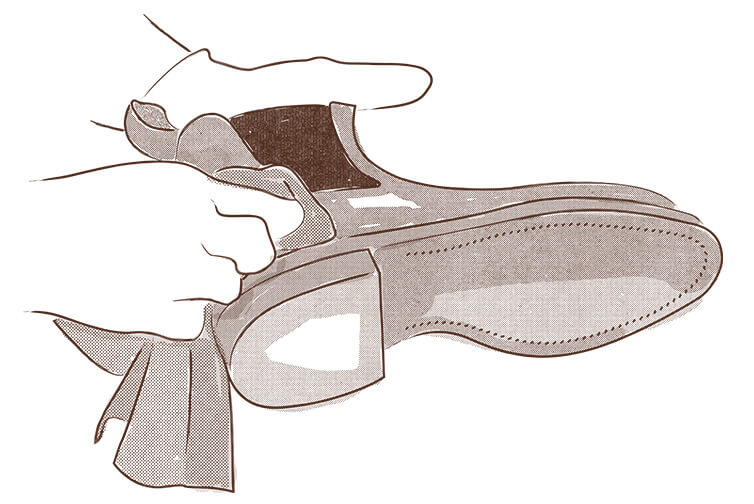 CLEANING & DRYING
Mud or dirt should be removed from footwear when still wet, using a damp cloth and then waiting until dry before cleaning and polishing.
If your footwear becomes damp or saturated with water, allow them to dry naturally; Never use direct or forced heat, as this will harm the upper and may damage the sole.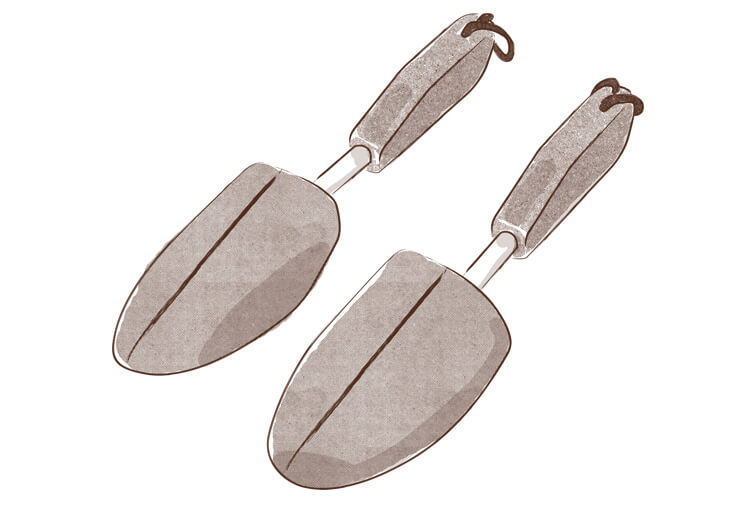 STORING
When you're not wearing them, your boots can be kept in shape with shoe trees. These are a must when boots have become saturated with water, because the shoe trees will allow the boots to dry completely without distortion.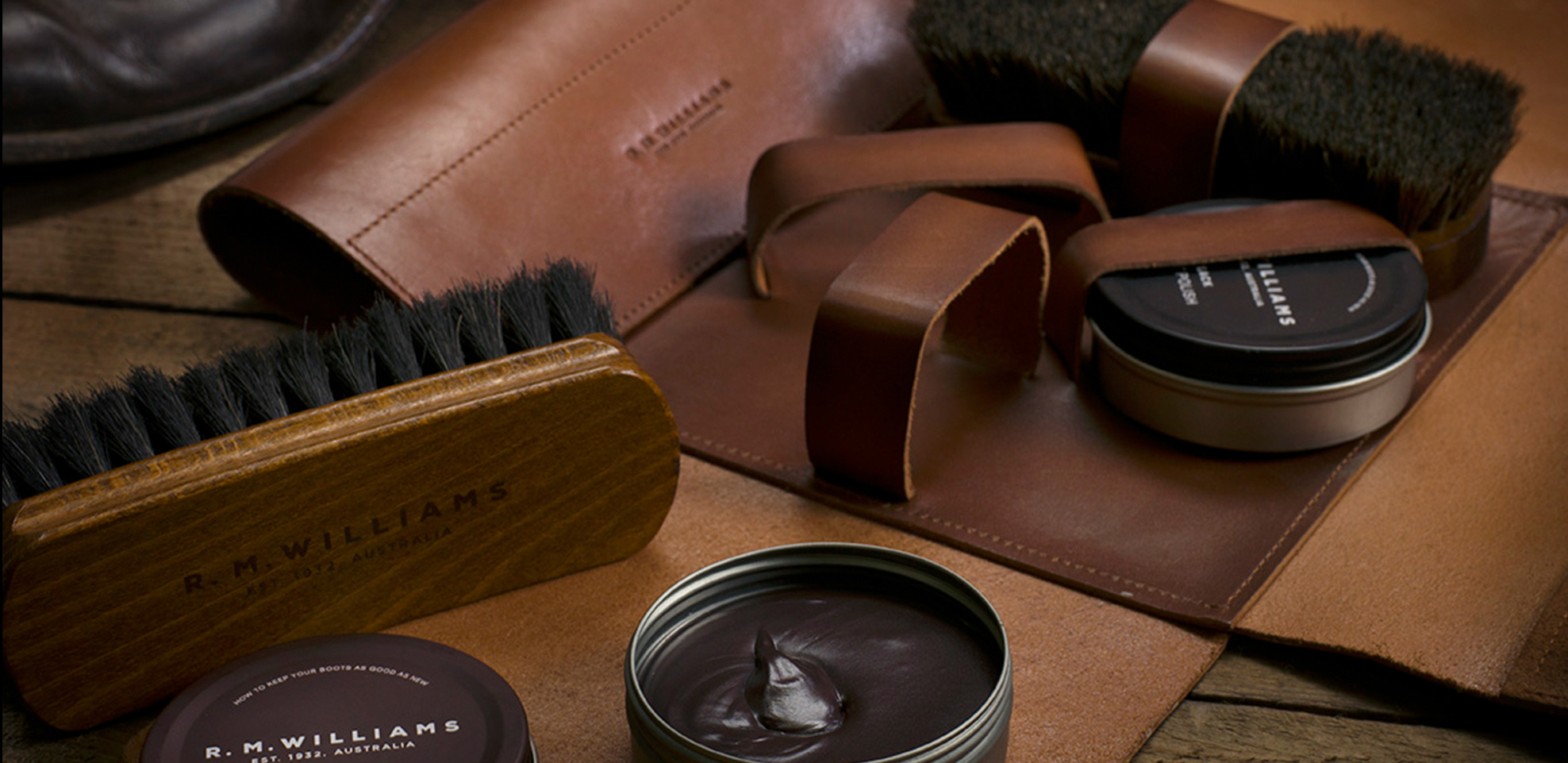 leather care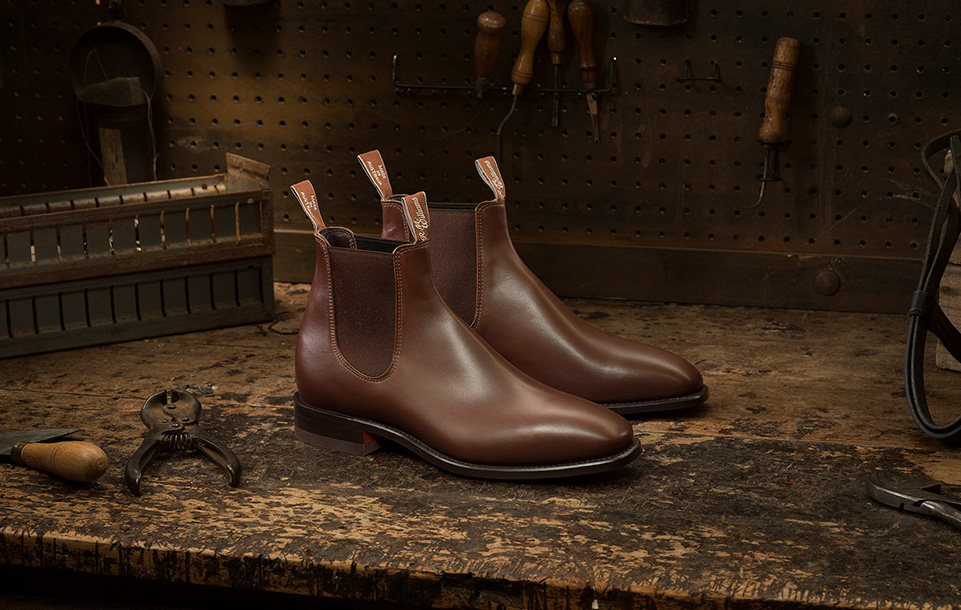 CLEANING, CONDITIONING &
POLISHING FINISHED LEATHERS
Apply R.M.WILLIAMS LEATHER CLEANER directly and evenly onto the leather article. Rub cleaner evenly over surface with a damp cloth until clean. Remove any excess cleaner with a dry clean cloth.
Apply R.M.WILLIAMS LEATHER CONDITIONER evenly to finished leathers with a clean cloth or hands. Allow the conditioner to penetrate before buffing off excess to a soft sheen. R.M.Williams Leather Condition should be applied regularly to finished leather footwear (every six weeks in humid conditions or as the leather becomes dry) to maintain and preserve the leather. Be careful not to over condition. For finished uppers this has the added benefit of reducing harmful polish build-up.
Apply R.M.WILLIAMS STOCKMAN'S BOOT POLISH to finished leathers with a clean cloth and rub in well. Buff briskly with a buffing cloth to obtain a high shine. For boots which are badly scuffed, optimum results will be achieved if the polish is left on the uppers overnight. This will ensure the pigment is absorbed into the leather. Buff briskly with a shoe shine brush and finish with a buffing cloth to obtain a high shine.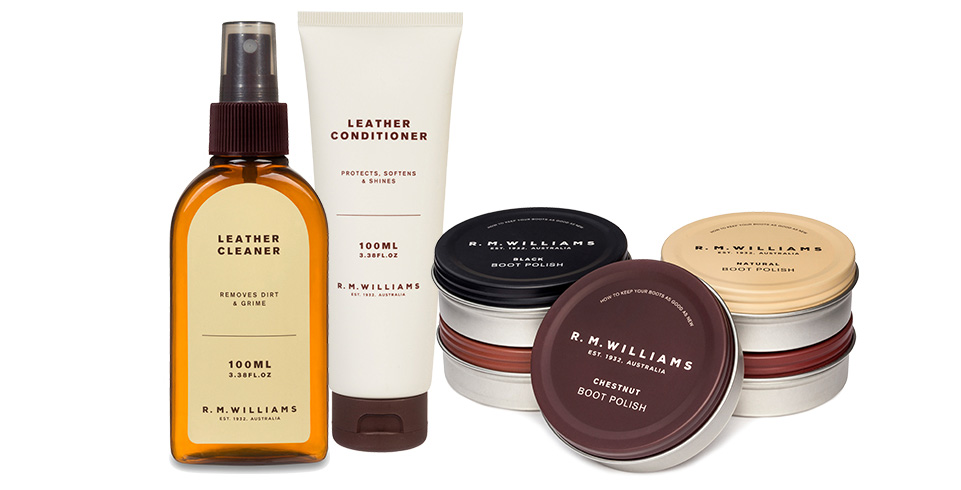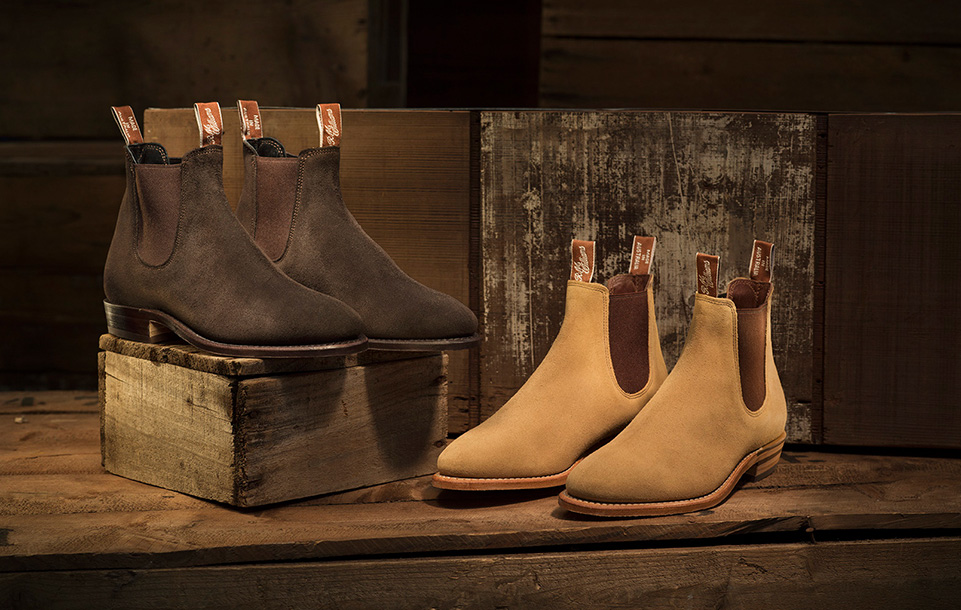 PROTECTING & CLEANING SUEDE
OR NUBUCK LEATHERS
Prior to wear, spray R.M.WILLIAMS SUEDE PROTECTOR in one direction, onto clean footwear at a distance of 20cm and allow to fully dry. Spraying in the opposite direction, repeat this process for a total of 3 times for best results. This will help repel water and protects against stains that occur with regular wear.
For suede or nubuck leathers, R.M.WILLIAMS SUEDE CLEANER should be used Spray onto a clean cloth or sponge and work cleaner in a circular motion to surface of boot. Leave to dry naturally and brush up nap when dry.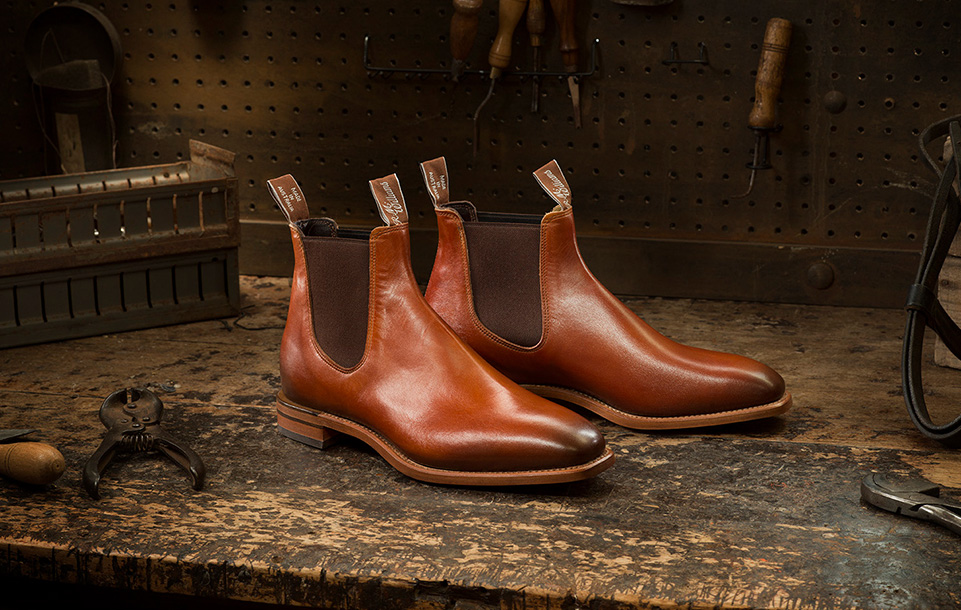 CARING FOR BURNISHED FOOTWEAR
Clean lightly with a damp cloth. Apply R.M.WILLIAMS STOCKMAN'S BOOT POLISH in NATURAL. Do not use any cleaner or conditioner.

RECOMMENDED CARE FOR LEATHER TYPES AND FINISHES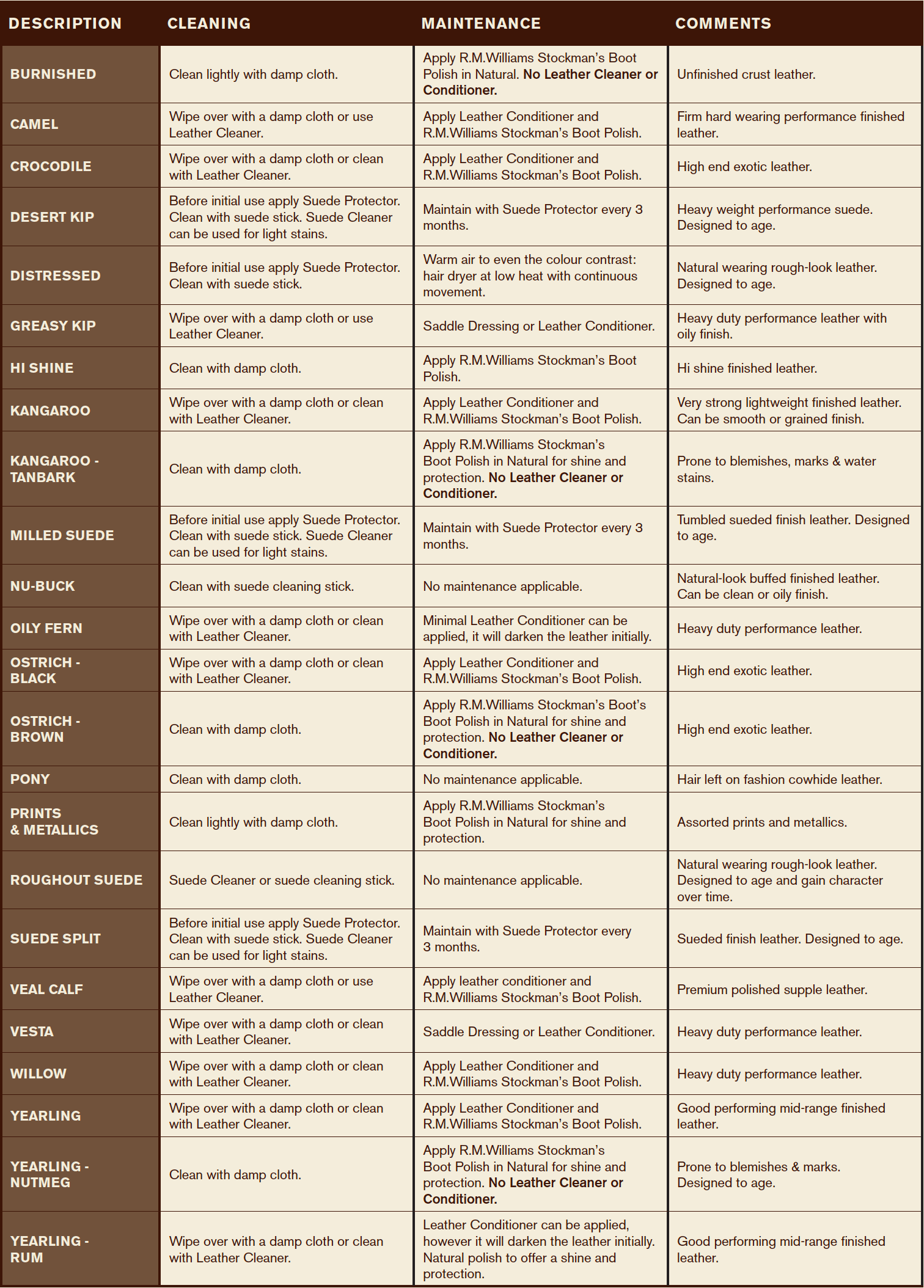 KEEP YOUR BOOTS AS GOOD AS OLD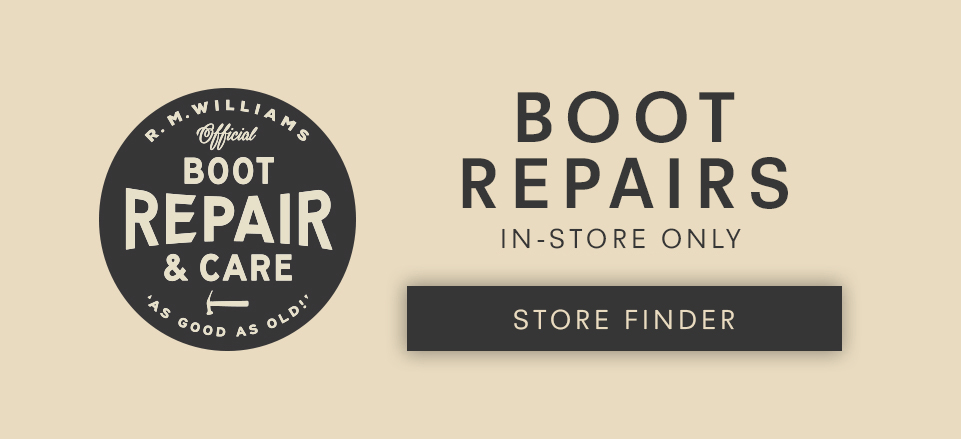 R.M.WILLIAMS REPAIR PRODUCTS
Repairing your boots in good time is a practice worth observing. Our Repair Service uses the same methods that were employed in the original making of your boots. Properly cared for, your boots can remain in good nick for years.
Want to know more about the repair process?